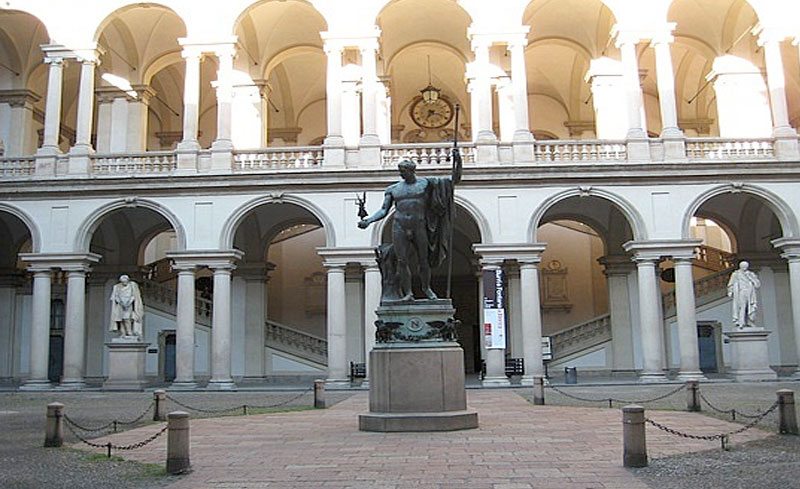 Brera Picture Gallery Milan
Pinacoteca di Brera
Brera Picture Gallery Milan is located in the Brera District Milan (one of the most fashionable districts in Milan). It is considered Milan's most distinguished art gallery, with many famous paintings and sculptures. The number of masterpieces included in the exhibitions are astonishing.
Brera Picture Gallery Milan is housed in a beautiful Baroque building, Palazzo Brera. It is very impressive, centered around a quadrangle. It was a former fourteenth-century convent. Afterwards, the Jesuits founded a school, a library and an observatory. And then finally, in 1776, the home of the Brera Academy (Accademia di Belle Arti di Brera). The original art collection was intended to be study material for the students. A lot of the paintings were given by churches and convents that closed over time. Through the years, the impressive collection expanded by donations and some purchases.
The art gallery spans over 38 rooms, filled with terrific works of art. It is located on the first floor of the building. There are mostly paintings by Italian artists, with a very large amount of religious art being represented. The artwork is arranged in chronological order, and geographically (schools).
Many masterpieces are on display here, including works by Raphael, Caravaggio and Mantegna. It also includes Bellini, Canaletto, Della Francesca, Tintoretto, and Veronese. Some examples of the museum's best works are Supper at Emmaus, by Caravaggio, created in 1606. Wedding of the Virgin, by Raphael, (one of his early masterpieces) created in 1504. The Kiss, by Francesco Hayez, created in 1859. Lamentation of Christ (The Dead Christ), by Andrea Mantegna, created in 1480. Holy Conversation (Madonna and Child with Saints), by Piero della Francesca, created in 1474. There are also some non Italian artists here. Which include Rembrandt, Peter Paul Rubens and Anthony Van Dyck, just to mention a few.
Also, there are some glassed wall restoration rooms. You can witness how much work, and detail is needed for art preservation and restoration.
The art school is located in the same building as the gallery. You will see a lot of the students lounging around and enjoying the interior courtyard.
The entrance to Brera Picture Gallery Milan is through the gift shop, which happens to be the exit too. Do not forget the audio-guide (fee is 5 euros), it will immensely add to the enjoyment of the exhibits. Many times title of the work is not given in English. There are lockers for backpacks which must be checked (1 euro deposit). The price of admission is very reasonable (12 Euros).
Go early, and then have lunch at one of the many excellent restaurants in the Brera District. Give yourself a few hours to get through all the different artworks.
Phone: 39-02-722-631
Address: Via Brera 28, 20121 Milan, Italy
Hours: Monday Closed
Tuesday thru Sunday 8:30 am – 7:15 pm, last admission is 5:30 pm
Also closed on January 1, May 1 and December 25th.